You Belong at Baker
Our goal is to develop an inclusive community that supports all students, respects and celebrates their identities, and facilitates their success. Multicultural Student Services provides inclusive spaces, heritage month and identity day celebrations, learning experiences, and opportunities that celebrate diversity and promote greater inclusion for all members of our community.
Our office is dedicated to affirming and embracing the multiple identities, values, belief systems, and cultural practices of the Baker community. We foster student learning through inclusive and empowering experiences in the areas of identity development, multicultural awareness, leadership workshops, campus outreach, and campus activities.
Multicultural Student Services Helps Students:
Understand and develop respect for people of all gender identities, expressions, and sexual orientations
Demonstrate an understanding of one's own identity, culture, and heritage, while encouraging them to learn more about others
Understand and work to improve campus culture and climate
Challenge their peers to engage and dialogue across differences
Demonstrate techniques and utilize tools to interrupt micro-aggressions and bias behaviors that adversely affect underrepresented communities
Students Can Get Involved by Participating In:
Identity-Based Student Organizations
Events and Workshops
Heritage and History Months
Peer Mentorship
Safe Spaces
Training
Equity Gap
We collaborate with other offices to help close the gap in graduation rates between underrepresented racial or ethnic groups and the graduation rate of the majority student population.
DEI Resources
These resources are designed to help students, faculty, staff, and alumni of Baker College access information on diversity, equity, and inclusion.
Meet the Multicultural Student Services Staff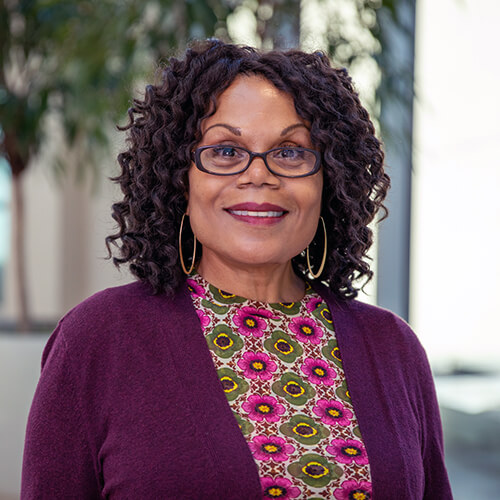 Dr. Iris Lane
Director, Multicultural Student Services • All Campuses
Email
Ed.D. in Administrator Leadership for Teaching and Learning, Walden University
MA in Education, Central Michigan University
BBA in Healthcare Administration, Detroit College of Business
"The greatness of a community is most accurately measured by the compassionate actions of its members." – Coretta Scott King