You now have more reasons than ever to consider a nursing career.
Nursing is deeply rewarding.

Nurses make a crucial difference in the lives of patients and their families.

Nurses are in high demand.

Even before COVID-19, the United States faced a shortage of nurses. The need has only grown. Nurses are—and will continue to be—in high demand.

An accelerated BSN gives you a fast track to a nursing career.

You can achieve the degree you need to succeed and start earning sooner.
Nursing—and the Need for BSNs—Just Keep Growing
In the years leading up to 2028, the occupation of registered nurse is projected to add the third-largest number of jobs of any occupation in the United States.
According the US Bureau of Labor Statistics, the booming employment growth in this sector results from:
An emphasis on preventive care

Rising rates of chronic conditions

An aging population
Among nurses, bachelor of science in nursing degrees (BSNs) are highly valued by hospitals, clinics, and other employers, and some lawmakers are pushing for a BSN degree to become a nursing requirement. Whether there's a requirement or not, a BSN makes candidates more desirable and capable of commanding higher salaries.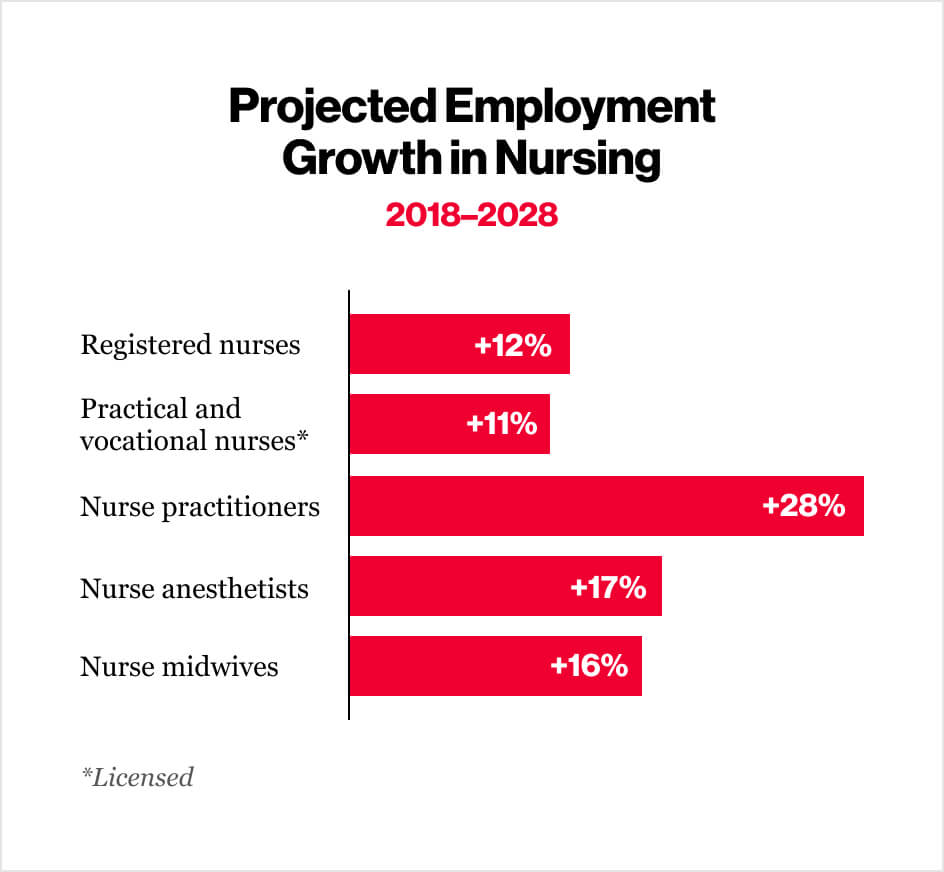 How Long Is an Accelerated BSN Program?
Normally, a pre-licensure nursing program takes four years to complete.
An accelerated BSN program, however, can enable you to earn your bachelor of science in nursing in 11 to 18 months.
The Baker College Accelerated BSN requires that you:
Have already earned a bachelor's degree

Take four semesters in a row: Fall, Spring, Summer, and Fall

Complete 62 credit hours
How Much Does an Accelerated BSN Cost?
Accelerated BSNs are available across the country at varying tuition rates. However, here are some helpful facts about the costs at Baker College:
As a nonprofit institution committed to remaining affordable while providing a high-quality education, Baker College offers one of the

lowest tuition rates in Michigan

.

Paying for 62 credits instead of 120 credits saves you money.

Financial assistance is available: 86% of Baker College students receive scholarships, grants, or financial aid.
How to Get into an Accelerated BSN Programs in Michigan
Because an accelerated BSN requires a rigorous full-time academic schedule, the standards for admission tend to be high. Not only will you need to have earned a bachelor's degree, typically, you'll also need a minimum of a 3.0 GPA to be accepted. There's also usually a thorough pre-screening process to identify students who will flourish in an ambitious program.
Baker College's admissions requirements are outlined here, but if you have any questions, you can contact an admissions advisor at (855) 487-7888.
Go Further, Faster: Complete an Accelerated BSN to MSN in Just Four Years
If you want to advance to a role in nursing administration, teaching, or leadership, or if you'd like to become a nurse practitioner in certain areas of specialization, you'll need to earn a master of science in nursing—an MSN.
At Baker College, in the time it would normally take to complete traditional BSN, you can complete a BSN and an MSN with a specialization in nursing administration or nursing education.
If nursing is your dream, a fulfilling future awaits you—it's up to you how long you take to get there.
References
American Association of Colleges of Nursing. (2019, April). Accelerated Baccalaureate and Master's Degrees in Nursing. https://www.aacnnursing.org/Nursing-Education-Programs/Accelerated-Programs
Office of Occupational Statistics and Employment Projections. (2020, March). Careers for nurses: Opportunities and options. US Bureau of Labor Statistics. https://www.bls.gov/careeroutlook/2020/article/careers-for-nurses-opportunities-and-options.htm
Rosseter, R. (2019, April). The Impact of Education on Nursing Practice. The American Association of Colleges of Nursing. https://www.aacnnursing.org/News-Information/Fact-Sheets/Impact-of-Education