Program highlights
Prepare for a career in culinary arts with our associate degree program.
Let your passion for cooking grow into a rewarding, fulfilling career as a sous chef, chef de cuisine, or even food service director. The Culinary Institute of Michigan's associate degree program in culinary arts is designed to give you a well-rounded foundation to prepare you for chef and other kitchen supervisory positions.
Develop your cooking skills while learning about all aspects of restaurant operations, including management, table service, and menu planning.
Train in state-of-the-art facilities that are equipped with the same tools professionals work with on the job.
Get hands-on instruction from experienced culinary professionals in small classes that allow you the attention you deserve.
Why study culinary arts?
As a CIM student, you'll learn advanced culinary skills and techniques through a combination of classroom learning and hands-on workshops in our state-of-the-art facilities. Once you graduate, you'll be prepared to take your Certified Culinarian certification exam and launch a career you'll love.
Career Facts
$43,180
Median yearly income
$57,704
Median salary for executives
View Citations
Curriculum
CIM's culinary arts degree program is a two-year program consisting of 60 credit hours (48 hours of major courses and 12 hours of general education requirements). Our curriculum includes culinary skills, restaurant techniques, and menu planning and analysis.
View Full Curriculum
Sample Courses
Culinary Skills I
Description
Gives an introduction to kitchen safety, equipment, principles of basic food preparation and cooking techniques in lecture and lab format. Extensive hands-on training is provided for using basic cooking methods and fundamentals.
This is a 120-hour lab course.
Restaurant Techniques
Description
This course is designed to help students hone the innovation, creativity, speed, and multitasking abilities required in today's modern kitchen. The lab format for this class will offer students a real working kitchen environment in CIM's student-run fine dining restaurant.
This is a 168-hour lab course. Must complete this course with a C or better.
Menu Planning and Analysis
Description
Introduces students to various aspects of menu development. Students will create a restaurant concept and develop a menu appropriate to the theme. Students will utilize industry-specific mathematics to cost menus and analyze a variety of menu styles.
In Their Words
"I chose the Culinary Institute of Michigan because it was a convenient location and it offered a more thorough baking program compared to other local institutions."
Additional requirements
Students must complete the following courses with a grade of C or better to graduate: Global Cuisine and Buffet Production, Restaurant Techniques. The culinary arts program also includes a 200-hour supervised work experience requirement.
Accreditation
The Muskegon and Port Huron Culinary Arts program is accredited by the American Culinary Federation Education Foundation Accrediting Commission (ACFEFAC). Graduates are eligible to become Certified Culinarians upon graduation. CIM is the only institution statewide and one of the only four in the U.S. to earn the "Recognition of Quality Culinary Education" designation from the World Association of Chefs Societies.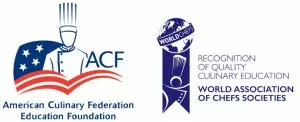 Classes available
This program is offered in-person on our campuses in Muskegon and Port Huron. In Michigan, our students come from Ann Arbor, Auburn Hills, Cadillac, Dearborn, Detroit, Flint, Grand Rapids, Jackson, Lansing, Kalamazoo, Muskegon, Owosso, Traverse City, and many other locations. Beyond Michigan, our online graduates hail from Ohio, Indiana, Illinois, and other states.
Unavailable on Baker Online
Core courses for this degree program are not offered through Baker Online.
For those interested, a selection of general education and prerequisite courses are available through Baker Online each semester.
Baker Online
Unavailable on Online Live
Core courses for this degree program are not offered through Online Live.
For those interested, a selection of general education and prerequisite courses are available through Online Live each semester.
Online Live