Program Highlights
Our cardiac sonography degree program can help you get to the heart of a great career.
Within the medical industry, heart-related procedures ranging from surgery to sonography and monitoring require a great degree of care and training. By capturing images of the heart and its chambers, cardiac sonographers work to provide more information on a patient's heart. The equipment used to diagnose and treat heart conditions is more sophisticated than ever, and it requires specialized training and experience to operate properly. This is a limited enrollment program.
Our program provides classroom studies and lab experience to help you learn the latest techniques using the most up-to-date and advanced cardiac sonography equipment available.
By combining our programs with real-world experience and extensive clinical course work, you'll get the experience and training you need to become a credentialed sonographer leading to a successful career as a cardiac sonographer.
The Associate of Applied Science in Cardiac Sonography degree program at Baker College is accredited by the Commission on Accreditation of Allied Health Education Programs (CAAHEP).
"In the Lab" Events
Considering a major in the healthcare industry? Experience our state-of-the-art health science labs firsthand and learn about our programs in nursing, occupational therapy and other popular majors.
At a glance
86%
Students who receive scholarships, grants or financial aid
Learn Your Way
Cardiac Sonography classes are taught exclusively at the Owosso campus. Plus, general education and prerequisite courses are typically available through Baker Online, Online Live, and on all campuses throughout Michigan.
Learn More
Direct Admission
Enrollment in the Cardiac Sonography program is limited, and admission is highly competitive. High-performing incoming freshmen may qualify for guaranteed enrollment and a $6,000-per-year scholarship through our direct admission program.
Learn More
Why Study Cardiac Sonography?
Your expertise as a registered cardiac sonographer will help put your patient's mind—and heart—at ease. Baker College's cardiac sonography degree program combines both academic study and hands-on training to provide the experience you need to properly perform cardiac echo testing for patients. Through academic and clinical training, this program will prepare you to provide patient services using diagnostic ultrasound equipment under the supervision of a doctor of cardiology.
Career Facts
$67,080
Median Yearly Income
14%
Career Outlook 2018–2028
$93,100
Median Salary for Executives
View Citations
Curriculum
The Baker College Associate of Applied Science in Cardiac Sonography degree program is a two-year, CAAHEP-accredited program consisting of 73 credit hours (28 hours of prerequisites and 44 hours of major courses). Our curriculum includes human anatomy and physiology, three 16-week clinical experiences with required lab hours and a board review (capstone).
Sample Courses
BIO 1210
Human Anatomy and Physiology I
Description
Focuses on the essential study of the body and associated terminology with a view toward the structure and function of the body parts, organs and systems and their relationship to the whole body.
45 hours of lecture and 30 hours of lab, if required.
CAS 2050B
Clinical Affiliation I
Description
Provides an opportunity for learning basic skills and applying previous coursework within the cardiac echo setting. This rotation will focus on non-invasive testing procedures and the performance of a basic echo protocol. This course will require students to observe and practice while under supervision. Additional lab time is required for students to share clinical experiences and perform hands-on skills with other students.
Minimum of 180 clinical hours and 30 hours of lab hours.
Capstone
Cardiac Sonography Board Review
Description
Provides students with a review of all content areas in preparation for the certification examination. This is the curriculum capstone course.
Must complete with a B- or better.
View Full Curriculum
Extended Reality Learning
Take your learning to a whole new level.
The College of Health Science is proud to offer courses that include Extended Reality (XR) learning. These experiences provide immersive, hands-on learning that will prepare you for a successful career in the healthcare field.
In Their Words
"I chose Baker because they had such a detailed, laid-out plan for me. It got me working as a nurse, and their goal is to see everyone off and working. Baker faculty are very prepared professionals. I felt like they set me up for success."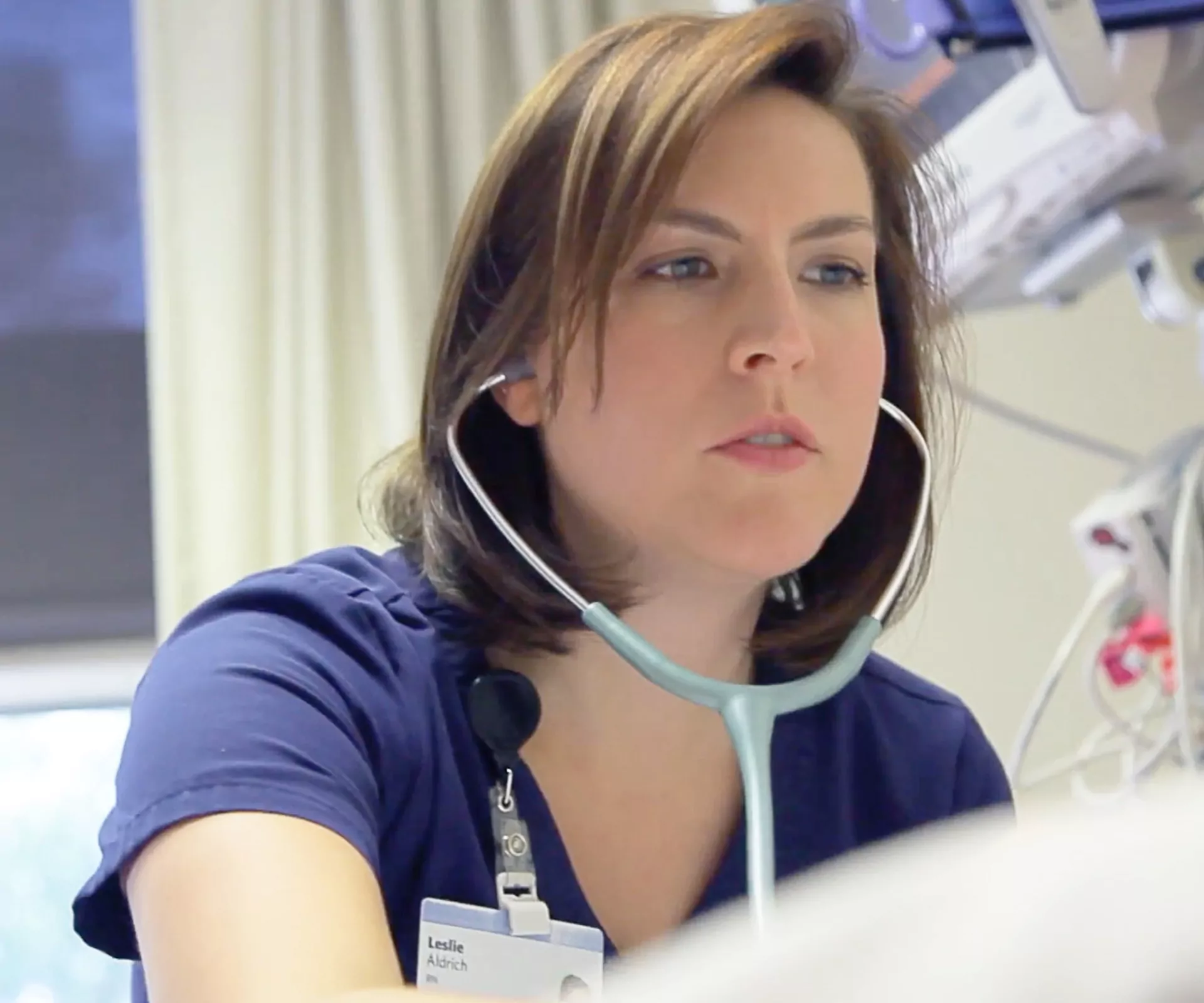 Outcomes & Performance
The mission of the cardiac sonography degree program is to provide each student with quality educational experiences, which will prepare them to readily make the transition from student to competent entry-level cardiac sonographer.
View Outcomes & Performances
Accreditation
External peer review is the primary means of ensuring and improving the quality of higher education institutions and programs in the United States. This recognition is accomplished through program accreditation, approval or certification. The cardiac sonography degree program is accredited by the Commission on Accreditation of Allied Health Education Programs (CAAHEP), 9355 113th St. N, #7709, Seminole, FL 33775; phone: 727-210-2350; fax: 727-210-2354; on the recommendation of the Joint Review Committee on Education in Diagnostic Medical Sonography (JRC-DMS), 2025 Woodlane Drive, St. Paul, MN 55125-2998, 651-731-1582; email [email protected]

Classes Available
This program is offered in-person on our campus in Owosso. In Michigan our students come from Ann Arbor, Auburn Hills, Cadillac, Dearborn, Detroit, Flint, Grand Rapids, Jackson, Lansing, Kalamazoo, Muskegon, Owosso, Traverse City, and many other locations. Beyond Michigan, our online graduates hail from Ohio, Indiana, Illinois, and other states.
Unavailable on Baker Online
Core courses for this degree program are not offered through Baker Online.
For those interested, a selection of general education and prerequisite courses are available through Baker Online each semester.
Baker Online
Unavailable on Online Live
Core courses for this degree program are not offered through Online Live.
For those interested, a selection of general education and prerequisite courses are available through Online Live each semester.
Online Live