Program Highlights
Our surgical technology degree prepares you to play a vital role in medical care.
Surgeons can't do it alone. Even their steady hands require the support of a dedicated team of trained operating room staff. In this unique profession, the surgical technologist will assist by anticipating each step of the procedure to ensure that the surgeon's hands stay occupied with the correct sterile instruments and supplies. After graduation, all you have to do is enter the field and get to work. This is a limited enrollment program.
In our surgical technology degree, you'll study with surgical professionals to learn how to deliver patient safety by properly applying sterile technique and aseptic principles as well as best practices in providing support to surgeons no matter what procedure they're performing.
Carefully designed curriculum provides classroom theory and hands-on experience to prepare you for a rewarding career as a surgical technologist.
The AAS degree in surgical technology at Baker College is accredited by the Commission on Accreditation of Allied Health Education Programs (CAAHEP).
Learn Your Way
Surgical Technology classes are taught at the Cadillac, Muskegon, and Owosso campuses. Plus, general education and prerequisite courses are typically available through Baker Online, Online Live, and on all campuses throughout Michigan.
Learn More
Direct Admission
Enrollment in the Surgical Technology program is limited, and admission is highly competitive. High-performing incoming freshmen may qualify for guaranteed enrollment and a $6,000-per-year scholarship through our direct admission program.
Learn More
Why Study Surgical Technology?
A surgical technologist possesses expertise in the theory and application of sterile and aseptic technique and combines the knowledge of human anatomy, pathophysiology, surgical procedures, and implementation tools and technologies to facilitate a physician's performance of surgery. The surgical technologist works under the supervision of a surgeon to ensure that the operating room environment is safe, that equipment functions properly and that the operative procedure is conducted under conditions that maximize patient safety. Currently, the need for surgical technologists is expanding to labor and delivery units, cardiac catheterization labs, outpatient surgery facilities and private physicians' offices.
Career Facts
$47,300
Median Yearly Income
$69,170
Median Salary for Executives
View Citations
Curriculum
The Baker College AAS degree in surgical technology is a two-year, CAAHEP-accredited program consisting of 67 credit hours (28 prerequisites and 39 major requirements). Our curriculum includes microbiology, surgical procedures and clinical experiences.
View Full Curriculum
Sample Courses
Microbiology
Description
Explores basic concepts of prokaryotic and eukaryotic microorganisms, including the basic composition, metabolism, genetics, immunology and epidemiology of microorganisms. The human diseases caused by these microorganisms and their treatments will be presented. A laboratory may be taken concurrently with the lecture course; students will perform several experiments to reinforce the material presented in lecture.
45 hours of lecture and 30 hours of lab, if required.
Surgical Procedures I
Description
Assesses anatomy, physiology, pathophysiology and diagnostic indications while exploring surgical procedures in the following surgical specialties: general, OB/GYN, GU, ENT, plastics and orthopedics. Students will learn to plan for intraoperative procedures and analyze patient considerations. Must complete with a B- or better.
This is a lecture course that meets for 60 contact hours.
Clinical I
Description
Participates in a clinical internship to gain hands-on patient experience in the first scrub role in accordance with professional accreditation requirements. Students will also be accountable for the verification and documentation associated with adequate procedural recording and hospital compliance.
A minimum of 256 clinical hours are required.
Extended Reality Learning
Take your learning to a whole new level.
The College of Health Science is proud to offer courses that include Extended Reality (XR) learning. These experiences provide immersive, hands-on learning that will prepare you for a successful career in the healthcare field.
In Their Words
"I chose Baker because they had such a detailed, laid-out plan for me. It got me working as a nurse, and their goal is to see everyone off and working. Baker faculty are very prepared professionals. I felt like they set me up for success."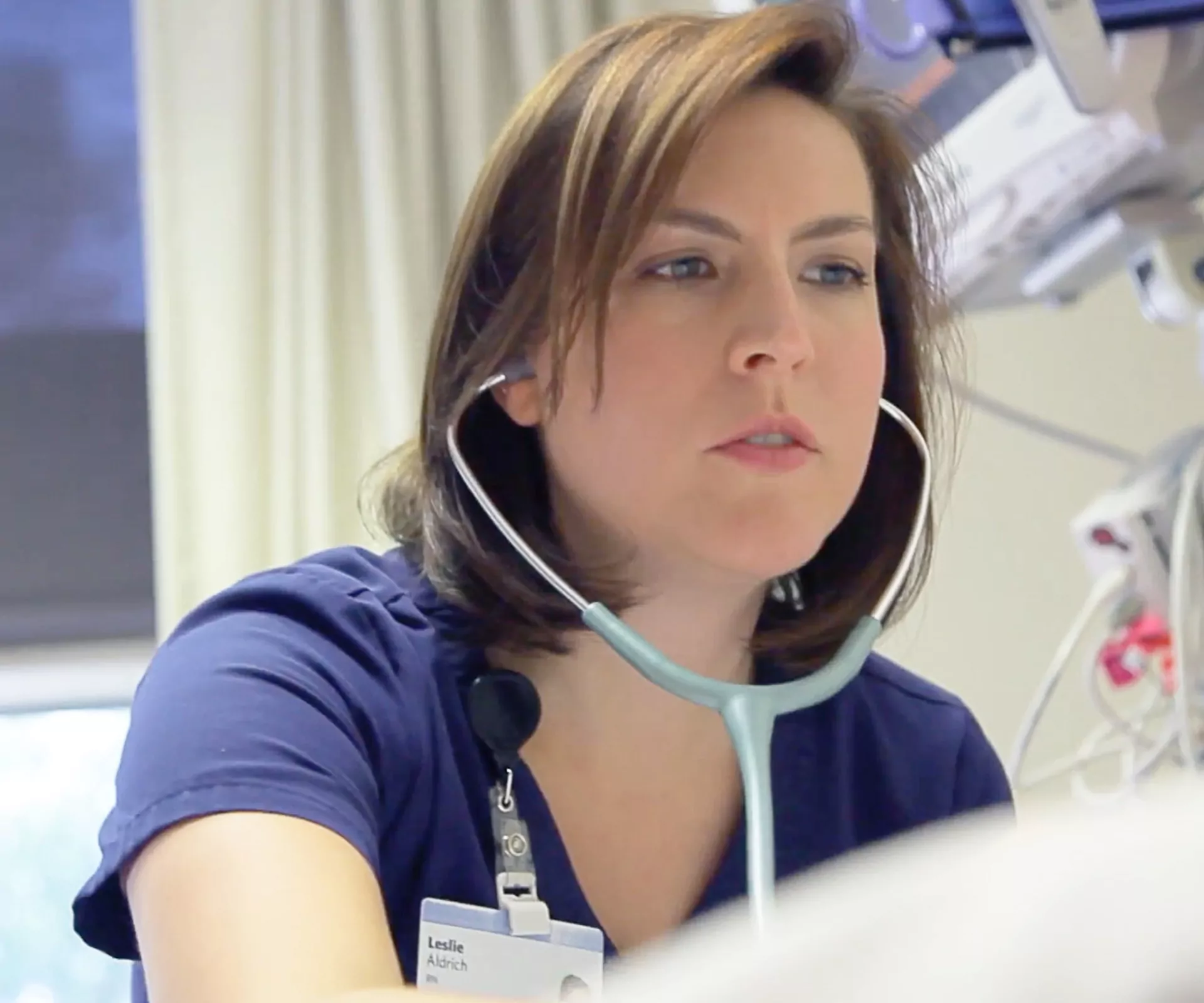 Outcomes & Performance
As an essential component of Baker College's academic health programs, the AAS degree in surgical technology program's goals are to prepare competent entry-level surgical technologists in the cognitive (knowledge), psychomotor (skills), and effective (behavior) learning domains.
View View Outcomes & Performance
Accreditation
The AAS degree in surgical technology program is accredited by the Commission on Accreditation of Allied Health Education Programs (CAAHEP). 9355 113th St. N, #7709, Seminole, FL 33775; Phone: 727-210-2350, Fax: 727-210-2354; upon the recommendation of the Accreditation Review Council on Education in Surgical Technology and Surgical Assisting (ARC/STSA).  

Classes Available
This program is offered in-person on our campuses in Cadillac, Muskegon, and Owosso. In Michigan our students come from Ann Arbor, Auburn Hills, Cadillac, Dearborn, Detroit, Flint, Grand Rapids, Jackson, Lansing, Kalamazoo, Muskegon, Owosso, Traverse City, and many other locations. Beyond Michigan, our online graduates hail from Ohio, Indiana, Illinois, and other states.
Unavailable on Baker Online
Core courses for this degree program are not offered through Baker Online.
For those interested, a selection of general education and prerequisite courses are available through Baker Online each semester.
Baker Online
Unavailable on Online Live
Core courses for this degree program are not offered through Online Live.
For those interested, a selection of general education and prerequisite courses are available through Online Live each semester.
Online Live