If you're an animal lover, you may have dreamed about becoming a veterinarian since you were a child. Unfortunately, many people who are interested in veterinary medicine give up the idea of pursuing their passion professionally because they don't think they'll be able to complete the level of education it requires. 
While it's true that becoming a veterinarian takes a significant commitment of time, money and effort, there are other career opportunities in the veterinary field that can be attained much more easily. Veterinary technicians, also known as vet techs, are credentialed professionals who work under the direction of a licensed veterinarian to provide nursing care for animals great and small. Vet techs are qualified to carry out many of the same duties a vet does, including taking X-rays and administering anesthesia. 
How Long Does Vet Tech School Take?
It takes eight to ten years of schooling to become a doctor of veterinary medicine, but you can become a veterinary technologist in as little as two years! To get started, you'll need to earn an undergraduate degree in veterinary technology from an AVMA-accredited school. Bachelor's programs in veterinary technology do exist; however, most vet tech degrees are offered at the associate level. 
Vet tech training programs typically include the following types of coursework:
Fundamentals of veterinary nursing

Animal anatomy and physiology

Microbiology and pathology

Large and exotic animal care

Diagnostic imaging techniques

Anesthesia and surgical procedures

Veterinary pharmacology
You may also be required to complete a veterinary technology internship, working with real animal patients under the supervision of a licensed veterinarian. Internship opportunities are a great way to add real-world work experience to your resume while you're still in school. 
After you graduate, you'll have to take and pass the Veterinary Technician National Exam (VTNE) before you will be eligible to practice. The vet tech certification exam includes 170 multiple-choice questions and takes three hours to complete.
How to Become a Vet Tech in Michigan
Interested in pursuing a vet tech degree? You're in luck! Michigan has seven AAMVA-accredited vet tech programs to choose from, four of which are offered by Baker College. With campuses in Cadillac, Jackson, Muskegon and Owosso, Baker College makes it convenient to get your veterinary career off the ground, no matter where you're located in the Great Lakes state. 
Finding an Accredited Vet Tech Program
There are a lot of colleges that offer degrees in veterinary technology, but only an accredited program will prepare you with the knowledge and skills you'll need to pass the VTNE exam. That's why it's so important to do your homework when selecting a vet tech program. Baker College is fully accredited by the American Veterinary Medical Association, and graduates of its veterinary technology program have a more than 90% pass rate on the VTNE certification exam.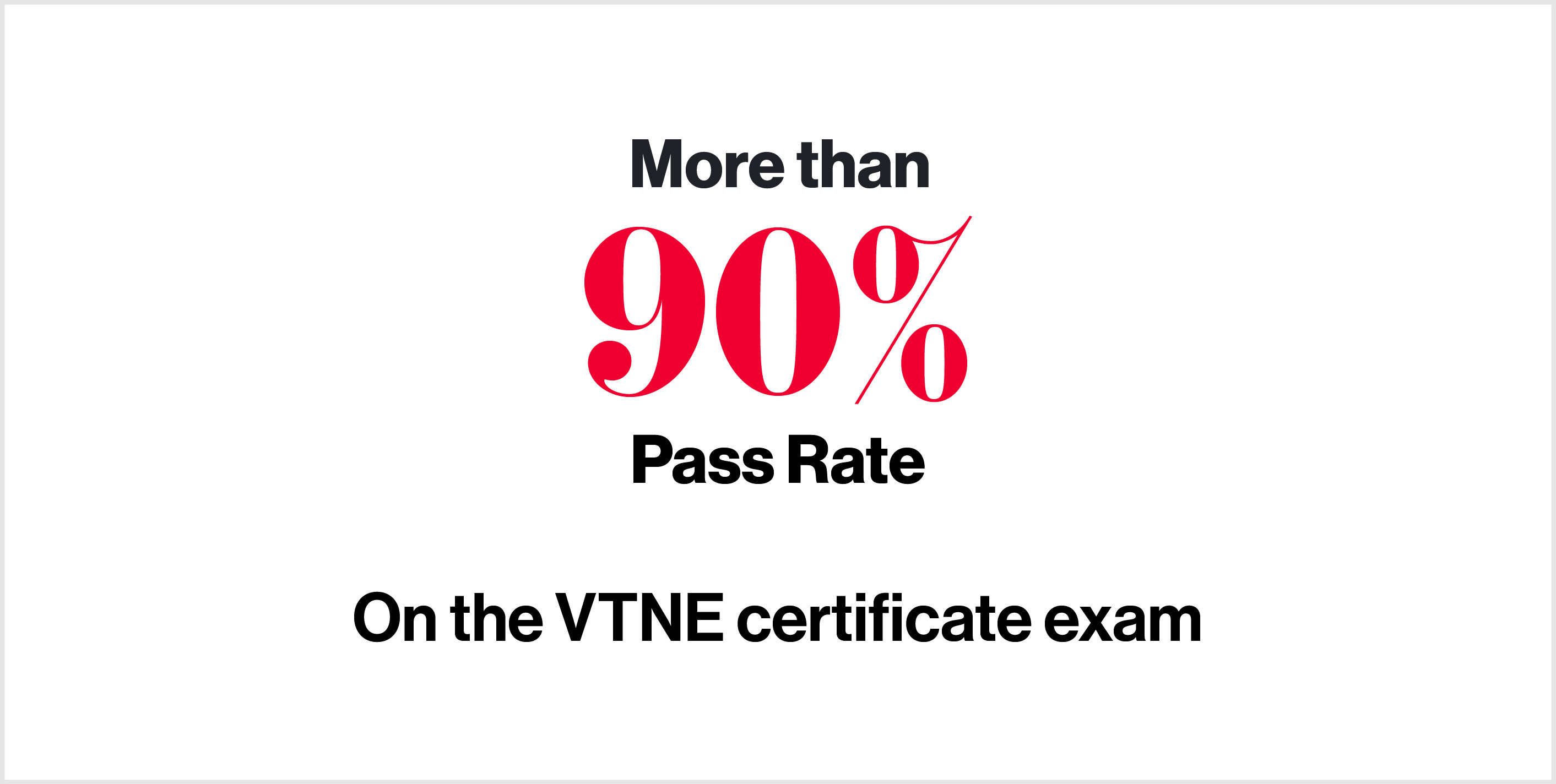 Another thing to keep in mind is that vet tech programs are highly competitive, with a limited number of seats available. Luckily, Baker College offers a direct admission option, which makes it possible for qualifying freshmen to secure a guaranteed seat in the school's veterinary technology program. As a direct admission student, you could also be eligible for a $6,000-per-year scholarship. 
References: