If you've ever seen a picture of a baby before it's born, then you've seen a sonogram. Maybe you've even had a sonogram yourself.
Sonography is a tremendously beneficial technology that enables doctors to look inside the human body—at organs, blood vessels, and even at developing infants—painlessly and noninvasively. Sonograms are the images captured using high-frequency sound waves that we usually call "ultrasound."
Diagnostic medical sonography (DMS) is the health science career that makes sonograms possible. Medical sonographers provide doctors with the images and information necessary to diagnose and treat health conditions inside the body.
What Exactly Does a Sonographer Do?
A medical sonographer uses ultrasound technology to capture needed medical imagery. But that's just one of the many responsibilities in a sonography career. As a sonographer, you:
Work directly with patients.

When someone arrives at an appointment requiring a sonogram, they're almost certainly feeling unsure and nervous. The sonographer needs to exhibit a good bedside manner, explain the procedure clearly, allay the patient's anxiety, and work with the patient to capture the needed sonograms.

Ensure everything is done correctly.

Yes, the sonographer has to capture quality images. But just as importantly, they have to be the

right

images. This requires fully understanding the physician's instructions and asking the patient questions.

Consult with physicians and other healthcare providers

. A sonographer is part of a healthcare team. In the course of a day, it may be necessary to clarify a physician's directives or obtain additional information—whatever is necessary to ensure the correct sonograms are captured and delivered to the radiologist and anyone else who needs them.
What a sonographer does every day involves sophisticated technology and specialized information, but ultimately, it's all centered on patient care.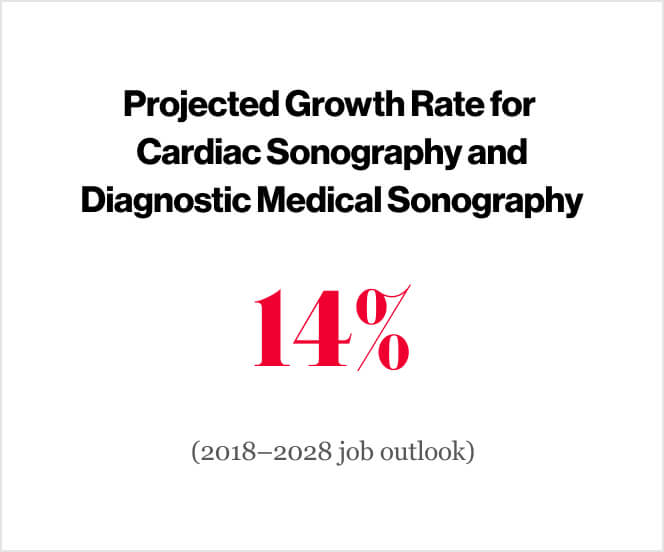 Sonography Is A Growing Career

Cardiac sonography and diagnostic medical sonography are projected to grow at a 14% rate, according to the 2018–2028 job outlook.
Types of Sonographers and Roles
As a medical sonographer, you can help many different types of patients. You might introduce expectant parents to their baby or help athletes identify their injuries. You could help to rule out cancer or help determine whether surgery is necessary. Sonography specialties include:
Cardiac sonography

, to capture images of the heart and its chambers

Abdominal/obstetric/gynecological sonography

, to evaluate abdominal and pelvic organs and assess pregnancy in real-time.

Vascular sonography

, to look at veins, arteries, and blood flow

Musculoskeletal sonography

, to look at muscles, tendons, ligaments, cartilage, and nerves

Breast sonography, usually performed as a follow-up to an abnormal mammogram
 

Sonography is one of the highest-paying careers achievable with a two-year degree. The median annual wage for diagnostic medical sonographers as of May 2019 was $74,320.

 

 
How to Become a Sonographer
To become a medical sonographer, you need to earn a special associate of applied science degree. A sonography degree takes only two years, on average—a shorter time than many other health science careers.
Some sonography degrees are specialized, focusing on abdomen/OB-GYN diagnostic sonography, for example, or cardiac sonography.
Getting into a Sonography Program in Michigan
Medical sonography programs are in high demand and have limited enrollment. Fortunately, Baker College offers a direct admission program that can give you peace of mind, knowing you'll be able to secure a spot. High-performing incoming freshmen may also qualify for a $6,000-per-year scholarship.
References:
Office of Occupational Statistics and Employment Projections. (2020, April 10). Occupational Outlook Handbook. US Bureau of Labor Statistics.
https://www.bls.gov/ooh/