Pre-Occupational Therapy Programs Outcomes
Apply knowledge of global practices, scientific practices, medical terminology, and anatomy and physiology in order to demonstrate the basic tenets of entry-level occupational therapy practice.
Utilize critical thinking skills to administer assessments in a uniform manner; to ensure findings are valid and reliable.
Adjust assessment procedures based on the client's needs, behaviors, and culture.
Establish accurate and appropriate treatment plans based on the evaluation results, through integrating multiple factors such as client's priorities, context(s), theories, and evidence-based practice.
Implement intervention plans that are client-centered.
Satisfactorily produce the volume of work (treatment, documentation, and administrative duties) required in the expected time frame.
Clearly and effectively communicate verbally, nonverbally, and electronically with clients, families, significant others, colleagues, service providers, and the public.
Demonstrate consistent work behaviors including initiative, preparedness, dependability, and work site maintenance.
Demonstrate problem solving and critical thinking skills by adhering to ethics of the profession, safety regulations, and judgment in safety in regard to self and others throughout the occupational therapy process.
Prepare to sit for the National Board for Certification in Occupational Therapy (NBCOT) Examination.
Demonstrate an appreciation for the complexity of context and diversity (including but not limited to socio-economics, culture, gender, race/ethnicity, religion, disabling conditions, and sexual orientation) on engagement in occupation.
In Their Words
"I chose to attend Baker College due to its affordability. Another reason I chose Baker College was because of its small class sizes and educational resources I was made aware of during orientation."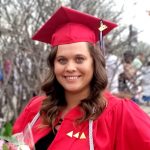 Michelle Holt
Bachelor of Science in Pre-Occupational Therapy