Welcome to Baker College
Congratulations on your admission to Baker College—we can't wait to see you at orientation! Orientation sets the stage for a student's journey and features a variety of engaging experiences and events designed to introduce new first-year, returning, and transfer students to life at Baker. You'll meet fellow students and the faculty and staff who will help you get the most out of your college experience.
Create Community
Take part in fun events and social engagement opportunities that can help you get a feel for your new community and make meaningful connections with other students. You'll get the lay of the land, tour the campus and residence halls, meet faculty and staff, learn about campus resources, get your student ID card, and pick up your Baker College t-shirt and swag.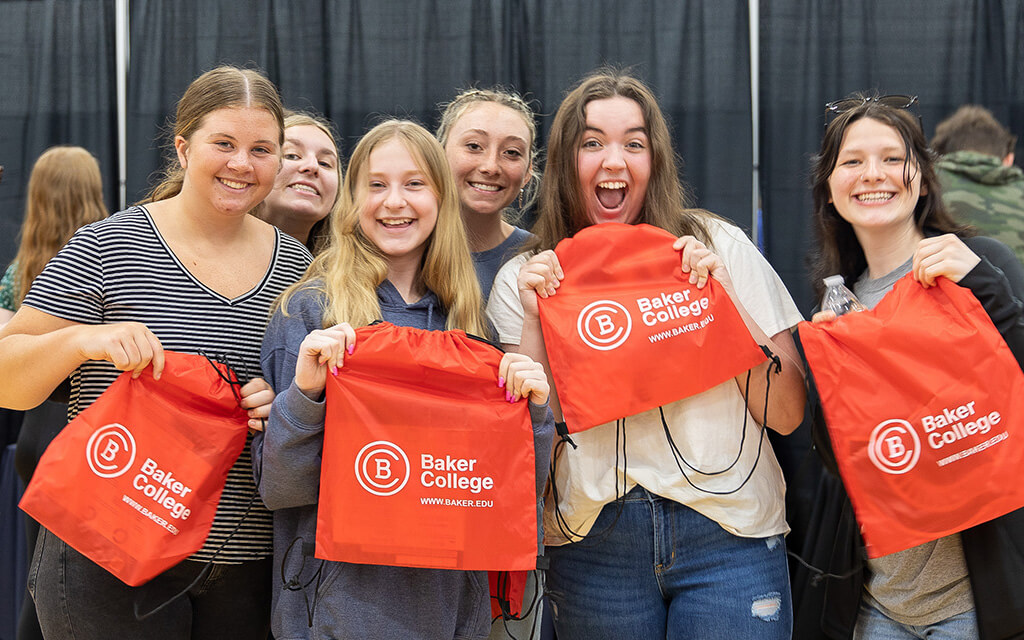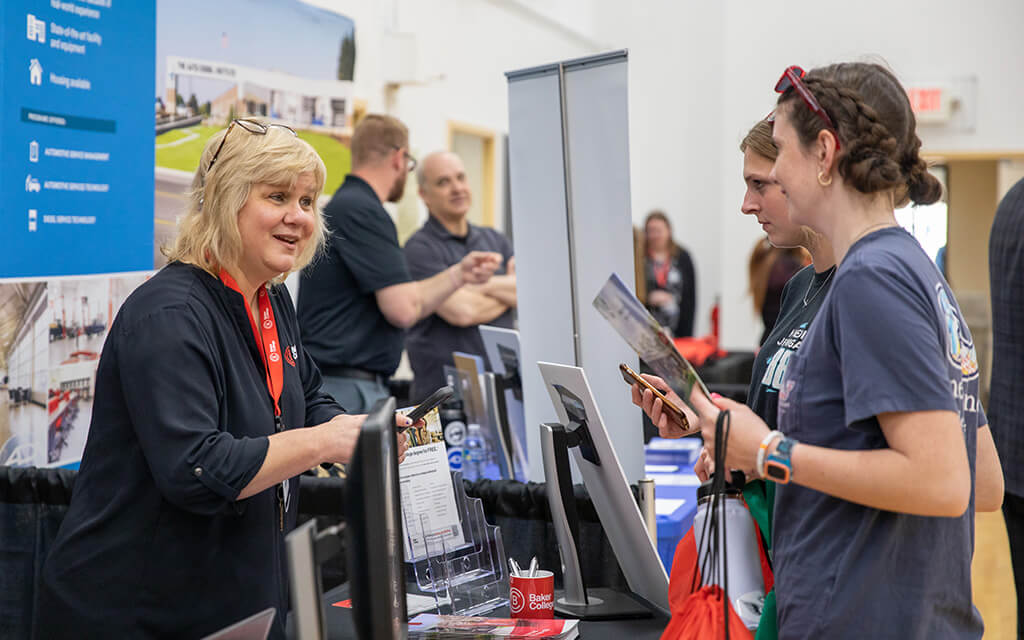 Say Hello to Your Support Team
As a new student, you'll have access to a dedicated Student Success Team from the start of your academic journey all the way through graduation. They'll be available to you every step of the way to provide any support you may need. Your Student Success Team includes:
Director of Student Affairs – Supports your needs outside the classroom so you can be successful inside the classroom
Faculty – Helps you gain academic knowledge and provides professional mentorship
Academic Advisor – Guides you through the registration process and helps you navigate academic policies
Career Advisor – Assists in helping you gain career competencies and finding career and internship opportunities
Bring Your Family and Friends
Students are welcome to bring guests (family, guardians, close friends) to orientation. We'll introduce you and your guests to faculty and staff, go over academic expectations, and highlight all the resources available to you as a new student.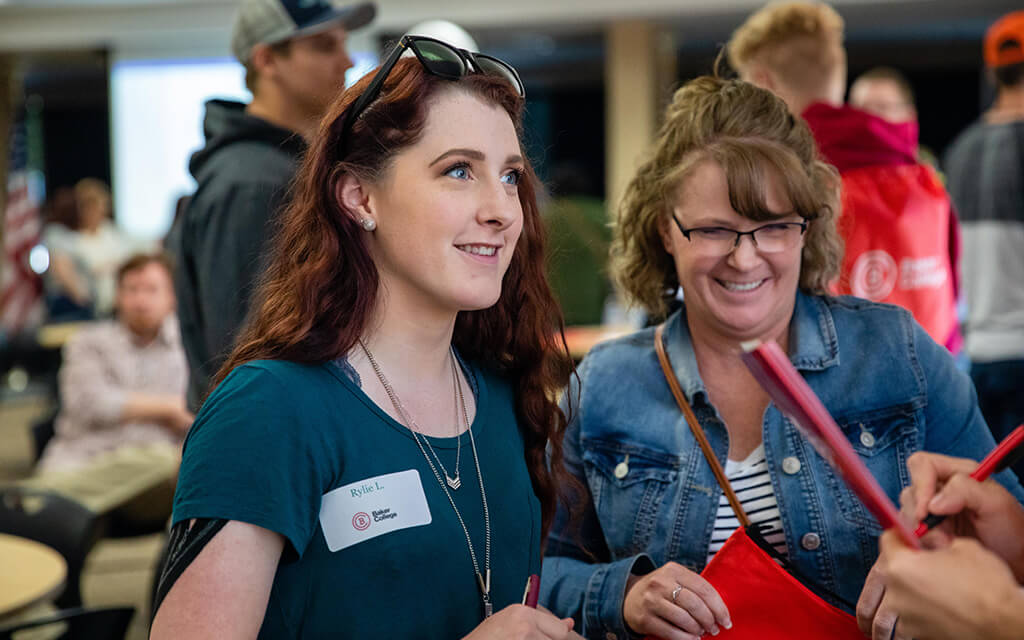 Dates and Times
Dates, times, and locations coming soon!
Please plan on attending the orientation session at the campus where you'll be taking classes or the campus that's most convenient for you. All Baker College students are welcome to use any or all campus locations.
All times listed below are in Eastern Standard Time (ET).
Cadillac
Friday, August 25, 2023
Living on Campus
1 p.m. Friday –
6 p.m. Sunday
Muskegon
Friday, August 25, 2023
Living on Campus
1 p.m. Friday –
6 p.m. Sunday
Owosso
Saturday, August 26, 2023
(Moved from Friday, August 25 due to power outage)
Living on Campus
1 p.m. Saturday –
6 p.m. Sunday
Port Huron
Friday, August 25, 2023
Living on Campus
1 p.m. Friday –
6 p.m. Sunday
Jackson
Friday, August 18, 2023
Commuter
1-5 p.m.
Royal Oak
Monday, August 21, 2023
Commuter
1-5 p.m.
Online
Thursday, August 17, 2023
Virtual
6-7:30 p.m.
Frequently Asked Questions
Orientation sets the foundation for your academic journey and gives you the opportunity to meet other new students, learn about your classes and career opportunities, and familiarize yourself with the campus, staff, and faculty. Orientation provides you with key resources and tools to help ease the transition into the Baker College community and set you up for success as a student.
While orientation is required for residential students, attending is highly recommended for all new Baker College Students. Orientation allows incoming students to explore campus, meet students and faculty, and learn more about Baker College.
Throughout orientation, you will be introduced to the people and resources supporting you at Baker College. This event is your opportunity to begin the semester on the right foot, prepared for success.
Registration is easy. Please select the "Sign Up" link for the campus and session that applies to you under the "Dates and Times" heading above. Then complete the short registration form.
No, there are no fees to attend.
Guests are welcome to sit in on the afternoon sessions of the first day of orientation. As the event progresses, we ask that guests depart campus by 5 p.m. to allow all new students to come together.
Students living on campus should plan to move into their residence halls before the start of orientation (detailed move-in information will be provided separately). All students and their guests should wear comfortable clothing and shoes, avoid flip-flops, and dress for the weather. We recommend that you bring a writing utensil and paper for note-taking purposes, as well as a positive attitude and open mind.
To secure accommodations, students should submit documentation to Disability Resource Services for review and approval. To request accommodations or to discuss your needs, contact our Disability Services Specialist at [email protected]. We ask that you complete your request as early as possible prior to orientation. Early submission will ensure the team has adequate time to make accommodations.
We're Here to Help
If you have questions or concerns while registering for orientation, please contact us at [email protected].