Program Outcomes
At the end of the program, the graduate will:
Apply local, state and national guidelines and regulation in an early childhood education environment.
Implement ethical, responsible and developmentally appropriate practices in early childhood education.
Model interpersonal skills such as leadership, enthusiasm, problem-solving and commitment to nurturing the whole child within the early childhood profession and to engage in a network of ongoing professional development.
Develop, observe and assess unbiased and developmentally appropriate early childhood curricula in partnerships with families and other professionals.
Create curriculum and strategies to improve children's development in language arts, numeracy, technology and social/emotional and physical development through the process of interconnected curricular content development.
Acknowledge and promote the awareness of and sensitivity to the diversity of families and communities.
Identify and use community resources to advocate for young children and their families to encourage parents as their child's first teacher.
Apply child development theories and techniques to meet the needs of children developing both typically and atypically.
Demonstrate and apply knowledge of influences on curriculum with a focus on assessment of curriculum practices within a variety of programs.
Develop curriculum with a focus on differentiation for the purposes of ongoing individual and group assessment and instruction.
Effective: Fall 2017
ECE Program Mission Statement & Conceptual Framework
Baker College Early Childhood Education Mission Statement
Our mission is to prepare knowledgeable and highly skilled professionals in the field of early childhood education who support human development through partnerships, advocacy, service and the education of all young children and their families.
The Mission Statement as the Cornerstone of the Conceptual Framework
The Baker College ECE Program mission statement reflects shared core values of multiple programs across our institution and takes its roots from the mission of NAEYC. A strong alignment to the accrediting body and a commitment to unity through shared vision, standards and curriculum make the Baker ECE Program unique. This focus is maintained throughout the program's conceptual framework as central themes form the foundation for the program. These themes include:
Producing graduates with a strong knowledge of child development
Focus on creating partnerships
Emphasis on becoming a lifelong professional
Annual Report of AAS ECE Program Outcome Data for NAEYC
Outcome Measure #1: The number of Program Completers
| | | | |
| --- | --- | --- | --- |
| Academic Year | Number of program completers | % of Program Completers who were attending full time (at the time of completion) | % of program completers who were attending part-time (at the time of completion) |
| 2019-2020 | 22 | 5.9% | 94.1% |
| 2020-2021 | 6 | 20% | 80% |
| 2021-2022 | 10 | 10% | 90% |
Outcome Measure #2: The Program Completion Rate
| | | |
| --- | --- | --- |
| Academic year in which a Fall cohort of full-time candidates enrolled in the program | % of candidates who completed the program within 150% of the published timeframe | % of those candidates who completed the program within 200% of the published timeframe |
| 2016-2017 | 50% | 100% |
| 2017-2018 | 100% | N/A |
| 2018-2019 | 100% | N/A |
*The published timeframe for completion of an associate degree in early childhood education is two years.
Outcome Measure #3: Institutional Selected Data
| | | | |
| --- | --- | --- | --- |
| Academic Year | Number of Graduates | % of Graduates employed in the early childhood profession within one year of graduation* | % of Graduates pursuing further education in the early childhood profession within one year of graduation* |
| 2019-2020 | 22 | 70% | 10% |
| 2020-2021 | 6 | 100% | 0% |
| 2021-2022 | 10 | 67% | 33% |
In Their Words
"The best thing about my program experience at Baker College is how it lifted me up and allowed me to implement the ideas that were introduced in the courses in my own classroom."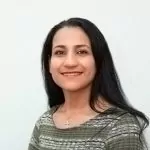 Shatha Mesi
Baker College Alum