Program Outcomes
At the end of the program, the graduate will:
Apply local, state and national guidelines and regulations in an early childhood education environment.
Implement ethical, responsible, and developmentally appropriate practices in early childhood education.
Model interpersonal skills such as leadership, enthusiasm, problem-solving and commitment to nurturing the whole child within the early childhood profession and to engage in a network of ongoing professional development.
Develop, observe and assess unbiased and developmentally appropriate early childhood curricula in partnerships with families and other professionals.
Create curriculum and strategies to improve children's development in language arts, numeracy and technology, and social/emotional and physical development through the process of interconnected curricular content development.
Acknowledge and promote the awareness of and sensitivity to the diversity of families and communities.
Identify and use community resources to advocate for young children and their families to encourage parents as their child's first teacher.
Apply child development theories and techniques to meet the needs of typically and atypically developing children.
Demonstrate and apply knowledge of influences on curriculum, with a focus on assessment of curriculum practices within a variety of programs.
Develop curriculum with a focus on differentiation for the purposes of ongoing individual and group assessment and instruction.
Demonstrate practical application in the ethical, developmentally appropriate assessment and referral of young children, with a focus on coordinating community services for children with typical and atypical development and their families.
Demonstrate, through the process of quality program administration, knowledge and skill in the application of national and state guidelines, including laws, professional standards, ethics, leadership and team-building practices.
Demonstrate knowledge and skills necessary to advocate for children through the process of empowering the parent as the lifelong advocate for their child.
Effective: Fall 2017
ECE Program Mission Statement & Conceptual Framework
Baker College Early Childhood Education Mission Statement
Our mission is to prepare knowledgeable and highly skilled professionals in the field of early childhood education who support human development through partnerships, advocacy, service and the education of all young children and their families.
The Mission Statement as the Cornerstone of the Conceptual Framework
The Baker College ECE Program mission statement reflects shared core values of multiple programs across our institution and takes its roots from the mission of NAEYC. A strong alignment to the accrediting body and a commitment to unity through shared vision, standards and curriculum make the Baker ECE Program unique. This focus is maintained throughout the program's conceptual framework as central themes form the foundation for the program. These themes include:
Producing graduates with a strong knowledge of child development
Focus on creating partnerships
Emphasis on becoming a lifelong professional
In Their Words
"Baker College is an affordable school that offers many opportunities for scholarships and awards to help you manage paying for school and getting started on your career with little to no debt."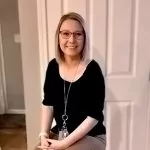 Christie Nelson
Baker College Alum