Physical Therapist Assistant Mission
Our mission for the physical therapist assistant program is to graduate students who have obtained the knowledge and skills to become employed as licensed physical therapist assistants and become contributing members of the physical therapy profession and healthcare team in diverse settings.
Program Philosophy
The faculty and administrators of the physical therapist assistant program believe that technical, interpersonal and critical thinking skills are important components of a quality educational experience. In addition, teamwork, ethics and problem-solving skills are emphasized throughout the educational experience to ensure graduation of competent physical therapist assistants.
Goal Statement
The goal of this program is to provide students with appropriate didactic and clinical experience leading to successful licensure and entry-level employment in the profession of physical therapy.
Customer Satisfaction Policy
Baker College is an institution focused on student satisfaction. To that end, any concerns or complaints regarding the physical therapist assistant program can be sent to the attention of the director of the program on the appropriate campus. The director will investigate the complaint, consult with all parties involved and provide a response as soon as all information has been evaluated. The program director will inform the dean of Health Sciences of the complaint, investigation and what actions have been taken.
If resolution cannot be reached at the level of the program director, the problem will follow the chain of command, beginning with the dean of the College of Health Science, followed by the chief academic officer/vice president of academics of the campus, the president of the campus and finally the president of the Baker College system.
Program Performance
Royal Oak PTA Program Yearly Statistics
Accreditation Status: Full Accreditation (next review 2029)
Year
2021
2022
2021-2022
2 Year Average
Graduation Rate
80%
100%
90%
First Time Licensure Pass Rate
75%
100%
87.5%
Overall Licensure Pass Rate
93.8%
100%
96.9%
Employment Rate
100%
100%
100%
Owosso PTA Yearly Statistics
Accreditation Status: Full Accreditation (next review 2028)
Year
2021
2022
2021-2022
2 Year Average
Graduation Rate
81%
100%
87.5%
First Time Licensure Pass Rate
66.7%
90.9%
78.8%
Overall Licensure Pass Rate
80%
90.9%
84.6%
Employment Rate
100%
100%
100%
Muskegon PTA Yearly Statistics
Accreditation Status: Full Accreditation (next review 2028)
Year
2021
2022
2021-2022
2 Year Average
Graduation Rate
100%
100%
100%
First Time Licensure Pass Rate
73.7%
80%
76.85%
Overall Licensure Pass Rate
94.7%
90%
93.1%
Employment Rate
100%
100%
100%
In Their Words
"Baker made me a smarter clinician. The instructors had experience that other professors might not have from other colleges."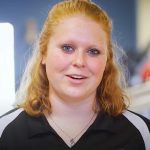 Jill Ivy
Baker College Alum