Late nights and technological talent helped make the first Computer Fix-IT event a success for the student Cyber Defense Club at Baker College's Flint campus. More than 25 students and faculty members worked the two-day event, providing service to more than 150 community members. Many of the students involved were on the team that won the 2016 Cyber Defense State Championship.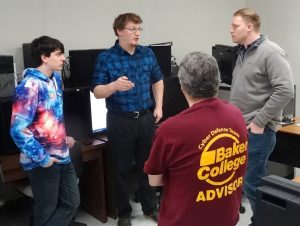 Students and faculty discuss strategy for the student Cyber Defense Club's Computer Fix-IT event. Left to right are Devon Beaver, of Port Clinton; Ohio, Fred Perakovic, of Davison; Jacob Whitener, of Howell; and, center front, Doug Witten, club advisor and director of the cyber defense, computer science and information systems programs at Baker College's Flint campus.
With a line of customers before opening each day, the students serviced more than 250 computers at no cost.
"We were able to help many who said they couldn't afford to pay for computer services," cyber defense program director, Doug Witten, said. "For a handful of customers, we confirmed that their computers were no longer operational and offered to dispose of them ecologically."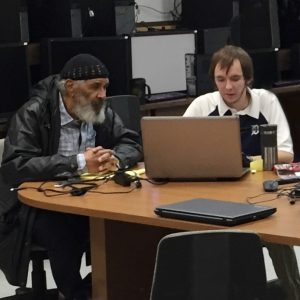 More than 150 people turned to students in Baker College's student Cyber Defense Club to fix or upgrade their computers at the club's recent fundraiser, the Computer Fix-IT event.
The event, held Dec. 29-30, provided Baker students an opportunity to gain experience solving a variety of problems with different computers, from installing software and hardware to ridding of viruses.
"The community challenged our students, and they excelled," said Doug Witten.  The experience will help the team to retain its state cyber defense championship title this spring. In addition to hands-on practice, the team received more than $1,000 in donations for the club. The money will help pay for food and snacks as the team prepares for competition with a minimum of 20 hours per week for the next several months.
For more information about Baker College, contact Kevin Pnacek in the admissions office at 810.766.4000 or [email protected] or visit www.baker.edu.