The CIM-Muskegon has partnered with Hamburger Mikey to create a featured Hamburger of the Month. Students were challenged in a competition to work in teams of two to create the most delicious and unique burger recipe. Baking and pastry students Christina Curtis and Allison Walters won the contest with the honor of having their burger featured on the menu this month.
Contest rules include:
Design a bun (incorporate your theme)
Choose a protein (beef/pork/sausage/mixed)
Choose a cheese
Avoid frozen ingredients or anything used in the deep fryer
Avoid standard combinations such as mushroom/swiss or lettuce/tomato/onion combos
Christina and Allison's winning burger is comprised of a beef/pork patty, prosciutto, tangy goat cheese, a savory herb mayo, fig jam, and candied walnuts on a Butter Brioche Rosemary Bun from Goober's Bakery and Pastry Shoppe.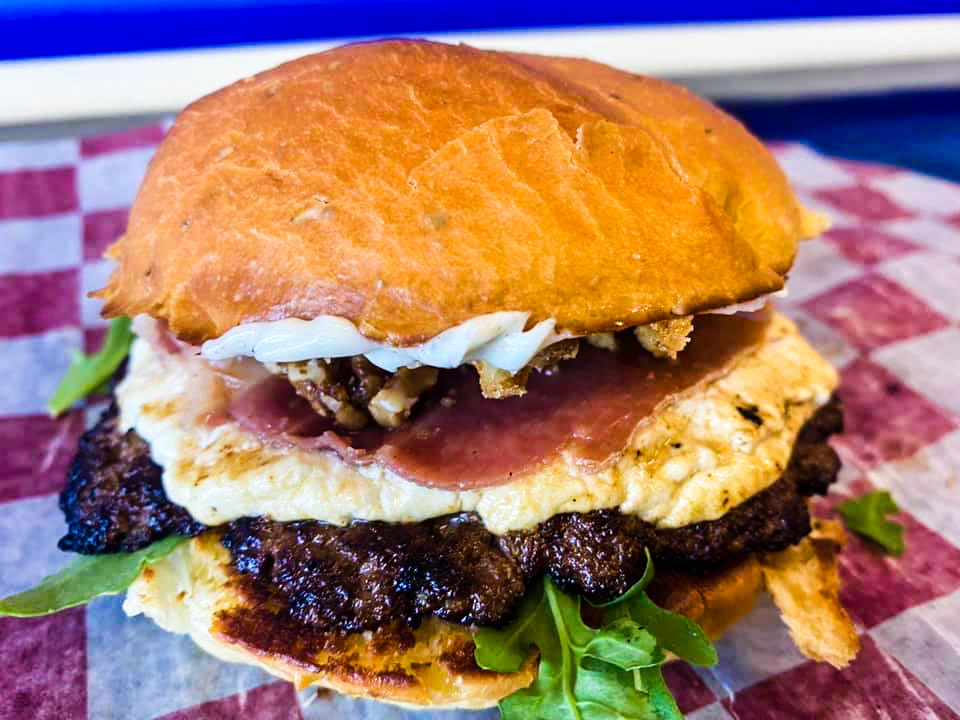 The winning Burger of the Month on red and white checkered wax paper.
Hamburger Mikey owner, Tim Taylor, chose the winning recipe. "We love seeing our students' work and creativity being shared with the community," said Culinary Arts/Baking & Pastry Arts Instructor, Chef Amanda Miller. "We visited Hamburger Mikey's to see the burger come to life and it is good! I recommend stopping by and ordering the double."
The CIM Collaboration Burger will be available to customers throughout the month of June.
About Culinary Institute of Michigan
The award-winning Culinary Institute of Michigan, a division of Baker College, offers associate degree programs focused on some of the fastest-growing areas of food service. CIM students, who can study culinary arts, baking and pastry or food and beverage management, learn from experienced industry professionals and develop technical skills through intensive hands-on training in world-class culinary facilities. Student chefs also gain real-world experience working at Courses, a teaching restaurant, open to the public and located on each CIM campus. For more information on Baker College and the Culinary Institute of Michigan, visit www.baker.edu or follow Baker College on Twitter and Facebook.