Go to college while you're still in high school.
With dual enrollment, you take classes at your high school, plus college classes from Baker College—an accredited four-year college. This lets you:
Save money. Your school district pays the tuition for your college classes.
Move closer to college graduation. You'll need fewer college classes to get your degree.
Prepare for life after graduation. You'll already have college experience.
Look good to colleges. Show them you're eager and experienced.
Whether you take your Baker College classes online or on campus, you'll learn from Baker College faculty. You'll go to classes with other Baker College students and do the same work they do.
Quick Links
Dual Enrollment Resources
RunningStart Program Contacts
High School Students & Parents
Betsy Benson
(231) 876-3148
School Administrators & Staff
Randy Hill, Ed.D.
(231) 876-3153
How to sign up for dual enrollment classes:
To dual-enroll in Baker College classes, you need to:
Then, follow these steps:
Complete the online application. Choose "Undergraduate" on the first screen and "RunningStart" when the option arises.
Send your high school transcript or SAT/ACT scores to

[email protected]

.
Once you're accepted, submit a FERPA (Family Educational Rights and Privacy Act) form here.
Fill out either:
Pass Baker College's online Student Welcome Experience class.
That's it! A RunningStart representative will register you for the classes you want to take.
---
Frequently Asked Questions
No, if you're a high school student in the state of Michigan who meets the eligibility criteria, you're eligible for dual enrollment at Baker College regardless of your high school.
The following schools currently have students in the Baker College dual enrollment program:
Allendale Public Schools
Benzie Academy
Benzie County Central Schools
Buckley Community Schools
Byron Area Schools
Cadillac Area Public Schools
Cadillac Heritage Christian School
Columbia School District
Copper Country Christian School
Corunna Public Schools
Covenant Christian High School
Dansville Schools
Durand Area Schools
Ellsworth Community School
Forest Area Community Schools
Fowlerville Community Schools
Goodrich Area Schools
Grandville Public Schools
Grant Public School District
Gull Lake Community Schools
Hanover-Horton School District
Highpoint Virtual Academy of Michigan
Home Educated
Houghton Lake Community Schools
Howell Public Schools
Inland Lakes Schools
Laingsburg Community Schools
Lakeview Community Schools (Montcalm)
Lakeview Public Schools (Macomb)
Lansing Christian Schools
Lansing Public School District
Lapeer Community Schools
Mancelona Public Schools
Manton Consolidated Schools
Maplewood Baptist Academy
Marion Public Schools
McBain Rural Agricultural Schools
Mesick Consolidated Schools
Michigan Great Lakes Virtual Academy
Morrice Area Schools
Muskegon Catholic Central Schools
New Lothrop Area Public Schools
Okemos Public Schools
Owosso Public Schools
Pellston Public Schools
Perry Public Schools
Pine River Area Schools
Ravenna Public Schools
Roscommon Area Public Schools
Spring Vale Academy
Stockbridge Community Schools
Waverly Community Schools
Whitehall District Schools
Williamston Community Schools
New dual enrollment partnerships between Baker College and high schools are added all the time. If you don't see your school, talk with your counselor, who can contact Randy Hill, Ed.D at 231-876-3153 or [email protected] to learn about setting up the program.
You can register for state-approved, accredited courses. Baker College will invoice the tuition to the Michigan Department of Education.
Tuition is free to students, covered by your school district or the state of Michigan. However, this funding process is typically done through the student's high school. In the event you're unable to secure funding through your school, you can enroll in courses at the dual enrollment rate.
Dual enrollment classes are held on Baker College campuses or online. (Please note that if you take classes on a Baker College campus, you'll need to handle your own transportation.)
Yes. You can easily opt to continue your studies at Baker College, or you should be able to transfer the credits you've earned through dual enrollment to another college. Baker College is accredited and its RunningStart program is accredited, so you shouldn't have any trouble. You can check various Michigan schools' requirements at mitransfer.org, just to be sure.
Here is the current list of classes you can take at Baker College through dual enrollment. The classes you choose to take from Baker College must:
Not be offered at your high school and
Lead toward accreditation, certification, and/or trade licensing.
As a dual enrollment student, you can take any 1000- or 2000-level courses at Baker College for which you've met the prerequisites. The course-limit breakdown depends on what year you begin dual enrollment courses.
| If you begin dual enrollment in… | Here's how many Baker College classes you can take for credit: |
| --- | --- |
| 9th grade | 2 courses in 9th, 10th, and 11th grades; 4 courses in 12th grade |
| 10th grade | 2 courses in 10th grade; 4 courses in 11th and 12th grades |
| 11th grade | 6 courses per year |
| 12th grade | 6 courses |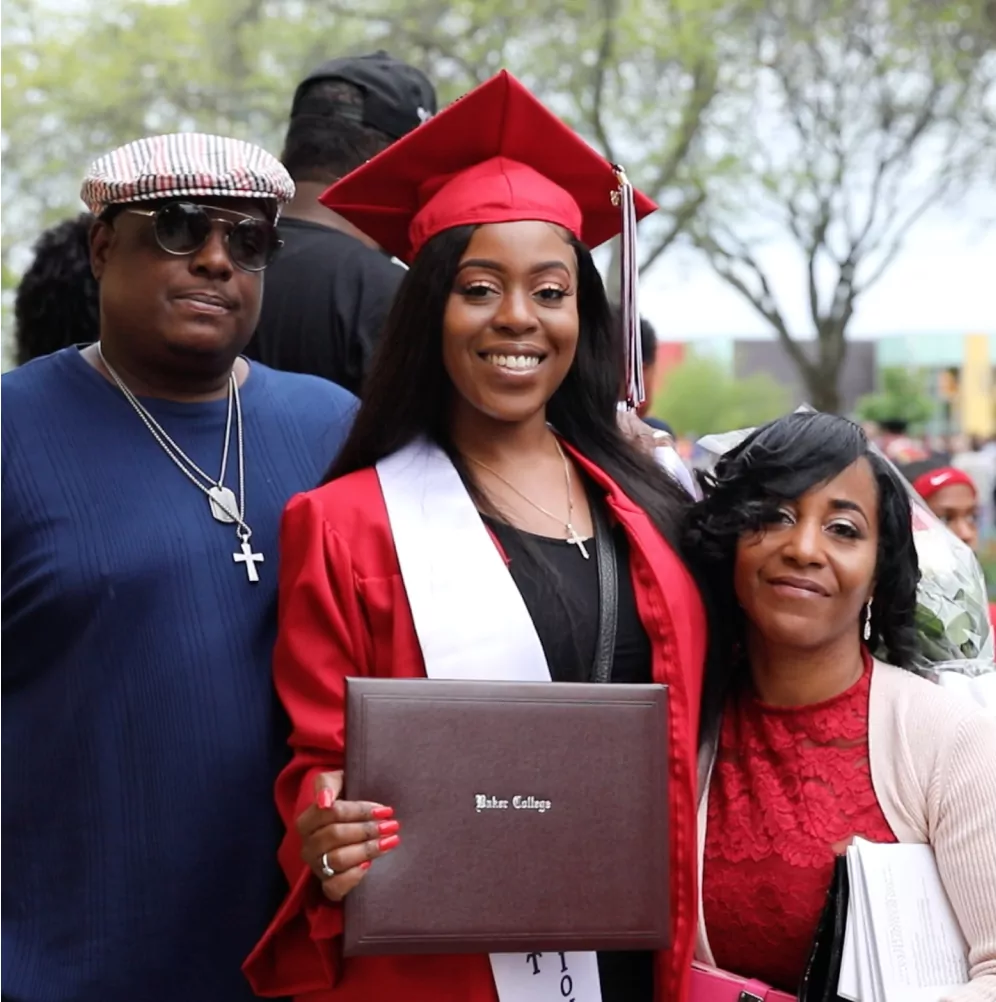 After Running

Start

, run straight to Baker College.
By taking Baker College classes while you're still in high school, you can take advantage of:
Excellent faculty who are active in their fields outside the classroom.
An affordable nonprofit institution focused on helping students.
Relevant, up-to-date learning for today's professionals.
You'll already have earned credits. You'll have a good sense of what Baker College is like. So you may decide to continue on to earn your bachelor's degree (or higher!) at Baker College.
Check out your other college credit options.
Baker College's RunningStart program has three other ways you can earn college credit while you're still in high school. Learn more about: